Balloon Sinuplasty: The Process, Side Effects, & Recovery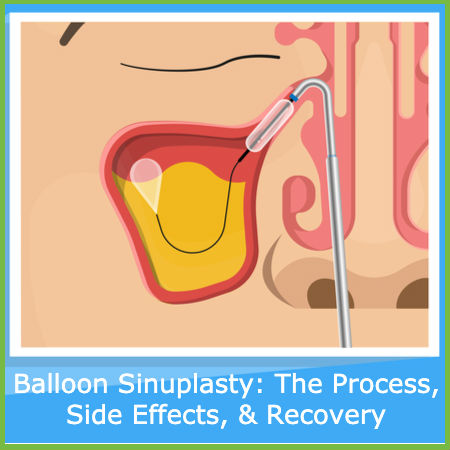 If you're suffering from severe and chronic sinus infections or blocked or inflamed sinuses, then balloon sinuplasty may be the solution you've been looking for. Over time, blocked or inflamed passages can affect your breathing, and also cause headaches, jaw aches, or insomnia.

For patients with sinus problems that do not respond to other treatments — such as nasal decongestant medications and rinses, antibiotics, or corticosteroids — this minimally invasive, highly effective procedure may be an option. With its high rate of success and low risk of complications, balloon sinuplasty has become one of the most common types of sinus surgeries. In addition, many insurance companies now cover this procedure.
If these problems are affecting you — and you want to "Breathe Better Now" — schedule a consultation with Dr. Kuperan to find out if balloon sinuplasty is right for you.

The balloon sinuplasty procedure
Dr. Kuperan performs the balloon sinuplasty procedure in his office in less than an hour, with no cutting or loss of nasal tissues or bone. Balloon sinus dilation enables Dr. Kuperan to widen blocked nasal passages and flush out/remove congestion — usually with a saline solution.
Once the patient is sedated so that the treatment can be pain-free, Dr. Kuperan uses an endoscope to look inside the nostrils. This small camera is used to guide the nasal balloon through the sinuses, and then the balloon is gently inflated to dilate the drainage pathways. After these pathways are cleared and drained with saline, the patient should awaken with noticeably improved breathing.   

Breathe better now — the benefits of balloon sinuplasty
In addition to the advantages of safety and immediate results, balloon sinuplasty also allows for a short recovery time.
Other benefits include:
Lower risk of bleeding (compared to traditional endoscopic sinus surgeries)

No intended damage or removal of any sinus tissues, structures, etc.

Less post-operative appointments required

Less need for operative or postoperative pain medications

And many others
An additional advantage of choosing Dr. Kuperan is that he uses sedation to reduce or eliminate pain, whereas many other surgeons do not offer sedation. Most balloon sinuplasty patients report improved symptoms — including more open, clear nasal passages — 3 and 6 months after surgery, without any unanticipated side effects.
A typically speedy recovery
After balloon sinuplasty, most people can go home after a few hours and return to most regular activities after 24-48 hours. However, it's usually advisable to avoid strenuous activities for at least a week. Many patients recommend sleeping or resting with their head or neck in an elevated position to help with drainage. Dr. Kuperan may advise against blowing your nose for 1-2 days after surgery. Over-the-counter anti-inflammatory medication can help manage any irritation or discomfort.
Possible side effects of balloon sinuplasty
Most patients report feelings of sinus pressure or numbness during the surgery, but not noticeable pain. As with any surgical procedure, balloon sinuplasty can cause minor symptoms, but they usually resolve shortly after surgery. Side effects of balloon sinus dilation can include bloody drainage, congestion, grogginess, tenderness, and tiredness for approximately a week following surgery. In rare cases, more severe symptoms have been reported; these can include damage to the structures that separate the sinuses from the brain. Rarely, changes to a patient's sense of smell or the appearance of their nose can occur.
Schedule a balloon sinuplasty consultation in Houston
To find out if you're a candidate for balloon sinuplasty, please make an appointment with Dr. Kuperan. As a board-certified otolaryngologist (ENT) — and one of a select few fellowship certified rhinologists in Texas — he will assess your symptoms and help you determine the right treatment for you.
If you have chronic or severe sinus infections and would like to talk about a balloon sinuplasty, contact Houston Advanced Nose & Sinus at 832-720-NOSE (6673) or click here to request a consultation.