Nasal Polyps
Nasal polyps are non-cancerous growths in the sinuses and nasal passages. While nasal polyps are typically painless, large nasal polyps can cause many frustrating and uncomfortable symptoms. Nasal polyps can block the sinuses, cause sinus infections, inhibit breathing function, and affect your sense of smell or taste. If you suspect you have nasal polyps, it is important to get an accurate diagnosis and an effective treatment plan. Houston Nasal Polyp Specialist Dr. Arjuna Kuperan is a Board Certified Otolaryngologist (ENT) and one of the few fellowship certified Rhinologists in Texas. He has the expertise, experience, and skill to help Houston patients get relief from nasal polyps.
UNDERSTANDING NASAL POLYPS
The American Academy of Allergy, Asthma & Immunology estimates that 20% of people with chronic sinusitis actually have nasal polyps.1 These inflammatory tissue growths can happen to anyone, although people with environmental/seasonal allergies or asthma are more likely to develop nasal polyps.2 You can have small nasal polyps that do not cause any symptoms, but nasal polyps can grow large enough to create an obstruction. It is important to see an experienced Rhinologist like Dr. Kuperan because not all nasal growths are polyps, and your doctor must differentiate between polyps, nasal cavities, and sinus tumors.
SYMPTOMS OF NASAL POLYPS
Persistent difficulty breathing through your nose inside the nasal cavity
Frequent or severe congestions
Reduced or lost sense of smell or taste
Frequent post nasal drip
Sinus pain or facial pressure
Snoring
Nosebleeds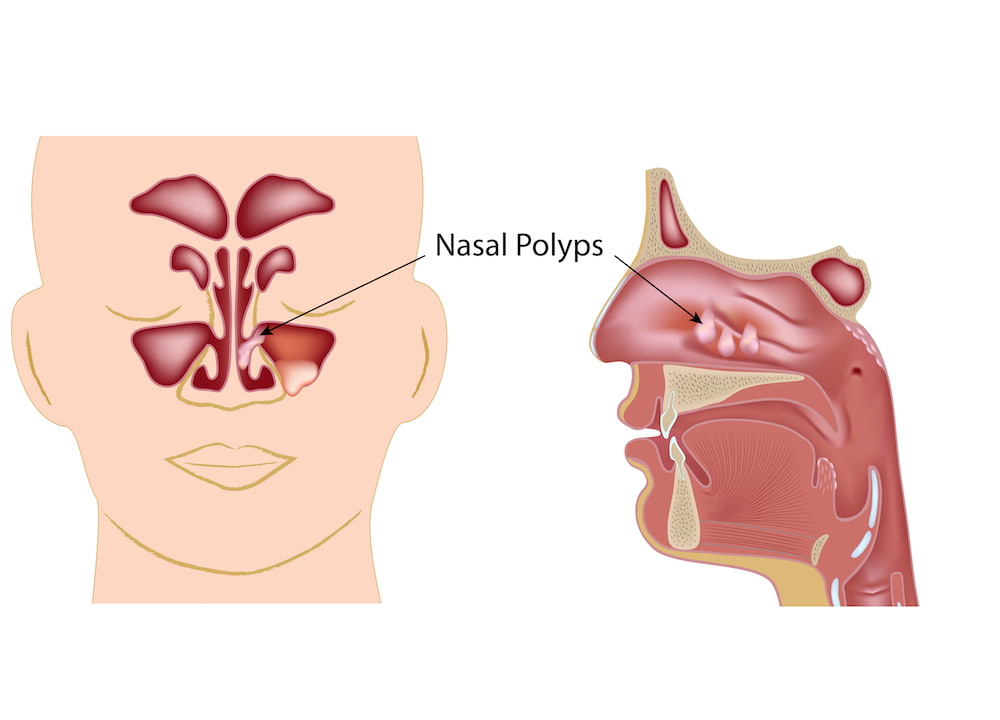 TREATING NASAL POLYPS
If you have been previously diagnosed with nasal polyps, or you suspect that you have them, you should consult an experienced Rhinologist. At Houston Advanced Nose & Sinus, Dr. Kuperan can examine your nasal passages with a CT scan (x-ray) of your sinuses or a nasal endoscopy to confirm nasal polyps. He will then create a personalized treatment plan for you. Nasal polyps may be treated with oral steroid medication, which can temporarily reduce their size. Surgical treatment can provide longer-lasting relief, especially if your polyps are very large or resistant to medication.
NASAL POLYP SURGERY
Dr. Kuperan is highly experienced in surgical treatment of nasal polyps. He offers several approaches and can discuss your options with you during your consultation appointment. Typically, he will recommend removal of the nasal polyps in an endoscopic sinus surgery. He finds that opening the sinuses with an endoscopic procedure is more effective than nasal polyp removal on its own because the polyps are less likely to quickly grow back.
Dr. Kuperan's expertise allows him to achieve complete polyp removal along with a widening of your internal sinus openings. He also offers an advanced technique that utilizes Propel steroid releasing implants to prevent polyp regrowth without the need for excessive oral steroids. Our goal at Houston Advanced Nose & Sinus is to find the best treatment plan for you in order to improve your quality of life.