Effectiveness of Topical Nasal Steroid Sprays in Treating Chronic Nasal Congestion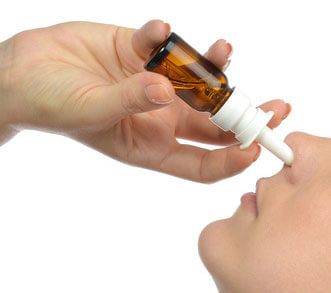 Rhinitis is inflammation of the mucosa lining the nasal cavities and causes symptoms such as nasal drainage, congestion or blockage of nasal breathing, throat itching/discomfort and coughing due to posterior drainage from the nose, and rarely nosebleeds. Other symptoms when caused by underlying allergies (allergic rhinitis) include sneezing and red/watery/itchy eyes. Most individuals with these symptoms find significant relief with medical therapy, and there are a variety of treatment options to consider. Rarely, nasal blockage is caused by polyps or even nasal tumors that will fail to respond to medications and warrant prompt medical attention. Consultation with a medical professional is recommended for anyone with significant symptoms that result in the need for long-term medication use. Most patients with inflammatory causes of rhinitis will benefit the most from topical nasal steroid sprays, and this blog aims to explain how they should be used and why they are effective.


What is a Topical Nasal Steroid Sprays?
Topical nasal steroid sprays contain various corticosteroid medications that reduce inflammation in the nose without affecting any other part of the body. Some of the nasal steroid sprays available on the market include Triamcinolone, Mometasone, Beclomethasone, Fluticasone and Budesonide. Decreasing inflammation in the nose reduces swelling, improves nasal breathing, and reduces mucous production with subsequent improvement in nasal drainage and postnasal drip. Potential side effects of nasal steroid sprays include nosebleeds, nasal dryness, and nasal crusting. Patients experiencing these side effects should stop using the sprays for several days until these symptoms resolve, at which point the sprays can be safely resumed. Nasal steroid sprays should not be used by patients with untreated nasal infections, pregnant women, or immediately following nasal surgery without first consulting your physician.
How long does it take for the spray to work?
Topical nasal steroid sprays do not provide immediate relief and require several days up to two weeks to provide noticeable symptomatic improvement in many patients. As with any medication for a chronic condition, they are only effective when used on a daily basis. Patients with severe nasal inflammation may be asked by their physician to use nasal steroid sprays twice daily until their condition improves. When symptoms are caused by seasonal allergies (pollens only present during certain times of year), it may only be necessary to use a nasal steroid spray during symptomatic periods.
Avoiding pitfalls
Decongestant sprays such as Afrin®, while immediately effective at improving nasal congestion, should never be used for more than 3 consecutive days due to the risk of developing rebound nasal congestion and progressive damage to the nasal lining (rhinitis medicamentosa). Decongestant sprays long-term can also cause a perforation in the nasal septum. While not a true addiction, stopping the use of decongestant sprays can be difficult for many patients that feel that their nose is completely obstructed when not using the sprays frequently. Topical nasal steroid sprays, when substituted for the decongestant sprays, help reduce swelling and improve nasal breathing without the rebound effects and are safe to use long-term. In some cases, medications may not be adequate to relieve nasal congestion due to chronic nasal decongestant abuse, and surgical intervention in the form of turbinate reductions may be required. Consultation with a physician specializing in nasal disorders can help patients find the most effective treatments for their specific conditions.
If you need advice
If you or someone you know is suffering from nasal congestion and other symptoms of chronic rhinitis, consider a one to two month trial of topical nasal steroid sprays. While allergy pills, antihistamine sprays, mucolytics, decongestants, and other similar medications all have a role in treating nasal symptoms, only nasal steroid sprays have been proven the most effective at providing symptomatic relief across multiple studies. Visit with the fellowship-trained Rhinologists, Dr. Kuperan at Houston Advanced Nose and Sinus to discuss your symptoms and how they can best be managed.