Graves' Ophthalmopathy: Symptoms, Diagnosis and Treatments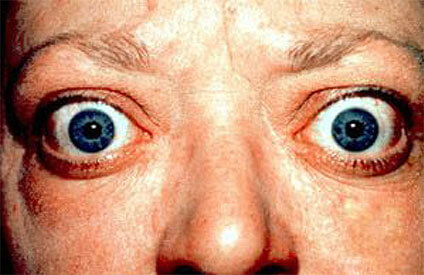 Graves' Ophthalmopathy, an autoimmune inflammatory disorder that affects the orbit around the eyes, is one of the most common reasons behind bilateral proptosis. It results in protrusion of the eyeballs, changing the facial appearance of the patient. If there is a sudden unilateral onset of the eye, it can be due to either intraorbital hemorrhage or inflammation of the orbit or paranasal sinuses. A slowly progressing onset persistent for 2-3 weeks might be due to a chronic inflammation or orbital inflammatory pseudotumor. Let's take a closer look at the symptoms, causes, and treatment of this condition.


Symptoms
Here's the list of symptoms patients might experience when suffering from Grave's Ophthalmopathy:
Bulging eyes
Gritty sensation in the eyes
Puffy or retracted eyes
Double vision
Vision loss
Pressure or pain in the eye/eyes or redness
Light sensitivity
Many cases of Graves' disease related proptosis are visible in adults and the condition commonly affects middle-aged women. It is comparatively severe in older men who have greater exophthalmos.
Diagnosis
The doctor confirms proptosis through a process known as exophthalmometry. The process involves measurement of the distance between the lateral angle of bony orbit and cornea. The values regarded as normal are < 20 mm. Some ENT specialists might prescribe a CT scan or MRI to confirm the disease and identify the structural reasons of unilateral proptosis. If the doctor suspects Graves' disease to be the reason behind the problem, a thyroid function testing may also be prescribed, to look for thyroid antibodies seen with this condition.
Surgical Treatment
Endoscopic orbital decompression is the surgical procedure for treating proptosis, usually performed under general anesthesia. The surgeon performs endoscopic sinus surgery to open the sinuses beside the eye, and then removes the bone along one side of the nose (the one that is close to the nose), and at times, the part of the floor of the eye to expose the thin line called periorbita that covers the contents of the eye. A cut is made along periorbita, so that fat and muscles of the eye bulge into sinuses. The surgeon doesn't pack the nose and in some cases may observe the patient overnight.
Last Few Words
Removal of the wall of the medial orbit through endoscopic orbital decompression might make the eye move back to a better position within the socket of the eye. The surgery usually helps with tearing, eye dryness and at times, also improves the appearance of the eye. The process is minimally invasive and is helpful usually in the case of Grave's disease. If you want to learn more about the surgical procedure, you may speak with the Dr. Kuperan with the Houston Advanced Nose and Sinus and we will be happy to answer any question you may have.