The Need to Know on Sinus Surgery: Overview and Treatments to try Before Surgery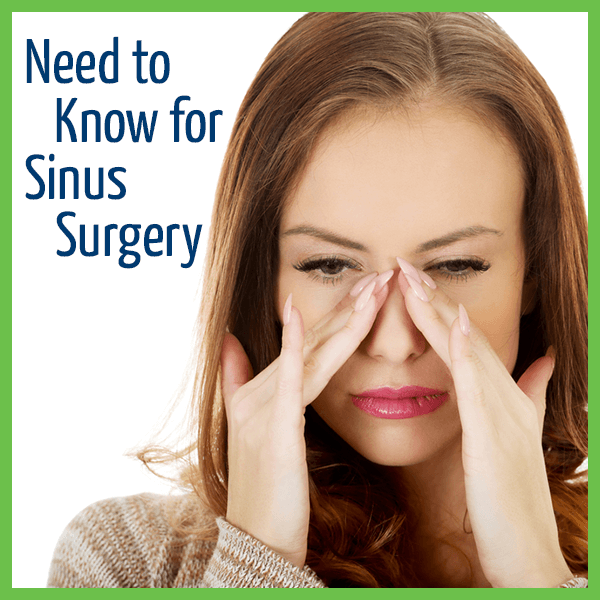 Sinus pain can be debilitating, and people often feel discouraged when they experience sinus troubles on an ongoing basis. If you are suffering from chronic sinus problems, then you need to talk to an experienced surgeon to learn about treatments that are available.

Sinus surgery can offer an effective treatment for severe sinusitis and other sinus problems. But, there are a few other options that should be considered before surgery is scheduled.
Overview of Sinusitis and Other Sinus Problems
The sinus cavities are found in the front part of the face, around the nose and eyes. These cavities protect the nasal passages by providing the mucus that is needed for moisture. This protective layer works to keep out infectious organisms, dirt, particles, and other pollutants.
The structure of the sinuses can lead to blockages that result in infections. So, surgery might be needed to open these pathways to clear the blockages.
If your doctor suggests sinus surgery, then the goal is to open the pathways by removing anything that might be blocking the sinuses. Each surgery is unique, depending on the needs of the patient. These are some of the things that might be removed to open the pathways:
Damaged or swollen tissue
Growths or tumors
Mucous membranes
Nasal polyps
Thin pieces of bone
Sinusitis is a condition when the nasal area swells, and it is often called a sinus infection. Symptoms usually include pressure around the face, thick nasal drainage, congestion, blocked ears, a stuffy nose, coughing, and more. Removing the blockages can help with long-term healing to minimize infections and symptoms in the future.
Treatments to Try Before Surgery
Different treatments might be used for sinus problems. Doctors recommend that you try these treatments before scheduling sinus surgery:
Allergy medications
Antihistamines
Nasal rinses
Nasal decongestant spray
Antibiotics
Oral steroids
If you try these treatments and the sinus problems continue, then the final treatment is to schedule surgery. Most of the common procedures can be completed using an endoscopic sinus surgery method, accessing the sinuses through the nose to avoid scarring. But, other access points may be used as necessary. For example, sometimes an incision is made above the molars, to access the sinuses through the mouth. Usually, the patient is under general anesthesia for these treatments.
After the surgery, you will feel mild discomfort during the recovery period. It is important that you follow the recovery recommendations to speed up healing time. The recovery time will vary depending on the type of surgery that is completed.
Do you need more information about treatments that are available for your sinuses? Visit Houston Advanced Nose and Sinus online to see an overview of the services that are available. Call 713-791-0700 to schedule a consultation for personal recommendations.