Balloon Sinuplasty: Why Do it with Dr. Kuperan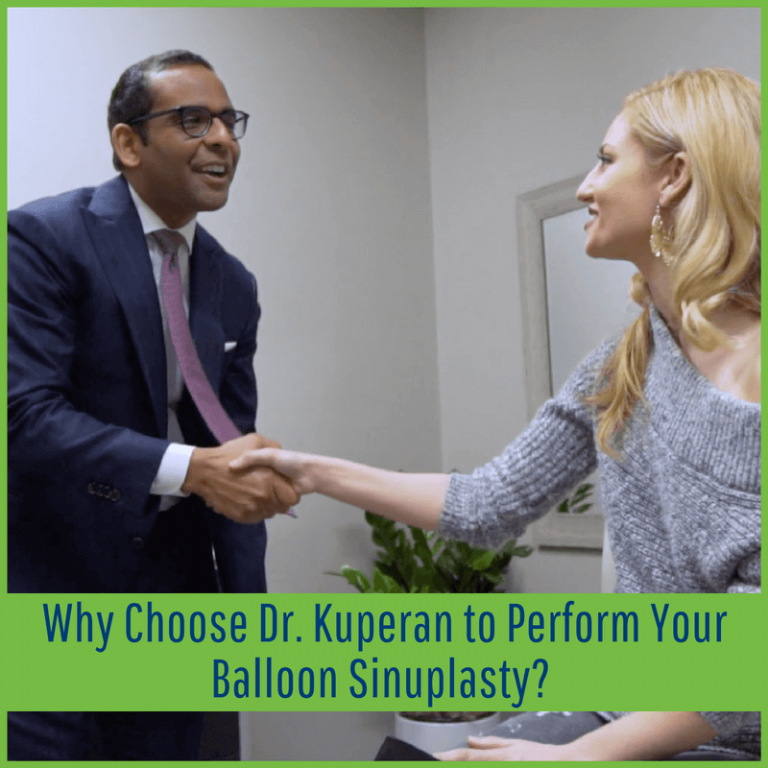 What is a Balloon Sinuplasty?
A Balloon Sinuplasty is an in-office procedure performed on patients who suffer from blockages in the sinus (like tissues, growths, foreign objects, bone) and/or on those who haven't experienced sinus symptom relief through more traditional treatment methods like medication or surgery. A balloon sinuplasty can provide patients with sinus relief and help them breathe more easily.

How is a Balloon Sinuplasty Performed?
An ENT performs a balloon sinuplasty the way heart surgeons open blocked arteries. During the procedure, a catheter is inserted through the nasal openings and a tiny balloon is inflated. As air fills balloon, the passageway expands by breaking paper thin bones and other obstructions. Then, a tiny shaver called a microdebrider is used to remove polyp tissue and facilitate drainage of mucus. Lastly, the balloon is deflated, leaving the passageway open to allow fluid to drain and relieve sinus issues. Totaling under thirty minutes, the procedure can be performed in one single office visit and provides a fast recovery; most patients return to normal activity within two days.
While highly effective in many cases, the balloon sinuplasty isn't for everyone and every symptom. Patients dealing with nasal symptoms should consult a specialist, like Dr. Kuperan, to determine which course of treatment would work best for them.
Why Choose Dr. Kuperan?
Dr. Kuperan is one of the best surgeons in Texas who performs the balloon sinuplasty for a variety of reasons, including his educational background, years of experience and his warm bedside manner. Additionally, he is one of the few surgeons in Texas who performs this procedure under light anesthesia so that it is painless for patients. And during the procedure, after the nasal passageway is dilated, Dr. Kuperan places stents to keep the sinus open, which is something that few other surgeons do.
Education
Dr. Arjuna Kuperan is one of the few rhinologists in Texas who is also a board-certified otolaryngologist (ENT). To achieve this rare distinction, a rhinologist must be selected for an extra sixth year of advanced fellowship training in treating sinus, nasal, and skull base diseases, beyond what is required of a general ENT doctor. Dr. Kuperan is also a graduate of the Ivy League Brown University, and through his education has always made excellent patient care a top priority.
Experience
On top of his extensive education, Dr. Kuperan's level of experience allows his patients feel comfortable and at ease. Dr. Kuperan has been performing in-office balloon sinuplasty procedures for months since the procedure became available. Because of his experience, Dr. Kuperan is a top-recommended physician by many other ENTs in Texas, and is considered the "go-to" specialist for all sinus and nasal problems.
Bedside Manner
Patients who choose to have their balloon sinuplasty done with Dr. Kuperan can not only expect a highly-trained surgeon to perform their procedure, but also a friendly, understanding and empathetic doctor who is willing to go above and beyond to answer questions, explain his process, and listen to his patients needs. Many patients have complimented Dr. Kuperan's caring bedside manner and willingness to listen to his patients, and this is one of the many reasons Dr. Kuperan comes as one of the highest recommended rhinologists in Texas.
If you're still not sure about doing a balloon sinuplasty with Dr. Kuperan, you can listen to our patient testimonials and see for yourself.
For more information about the procedure, book a consultation with Dr. Kuperan today!